Voltage (V): 24V
Features 8: Travel iron
Features 9: clothes
Features 10: Easy to use
100-240V Wide Voltage, Global Use: The mini iron is designed with wide voltage, so the iron can be used anywhere in the world, just select between 100 and 240 volts.32 watts low power, more energy-efficient,5.2 feet power cord provides reachability.
Nonstick Ceramic Soleplate, No Damage to Clothes: The ceramic soleplate is harder than stainless steel, and scratch-resistant than the Teflon plate, which can be used for a lasting time and no damage to clothes. With a smooth surface, rapid heating glides smoothly over the clothes and quickly removes wrinkles. Square panel design, which allows flexible ironing of narrow areas such as buttons, packets, and collars.
Small Mini Iron, Ideal for Travel: The portable clothes iron, is lightweight and portable. It can be put in a backpack or suitcase easily and can avoid arm soreness due to long ironing. As a travel iron, it's your best choice. The compact size is also perfect for household, sewing, quilting, and crafting. Not only worked as iron, but also as a heat press machine for DIY.
Sweet Notes: Although our handheld mini iron is suitable for most of the fabrics, some thermal sensitive fabrics, such as wool, plush,silk, and nylon, should be ironed under other smooth cloth to avoid morph or damage. Please check the clothing label to make sure if it can be ironed before ironing.
Release the "bulky machine" from the shackles. A Total Game Changer!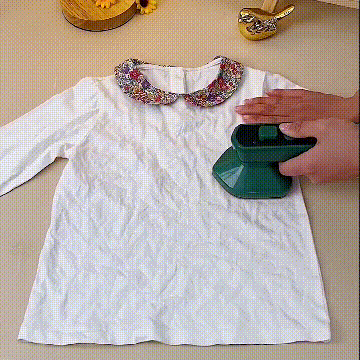 INNOVATIVE 360° TECHNOLOGY, NO WATER SPOTS LEFT BEHIND